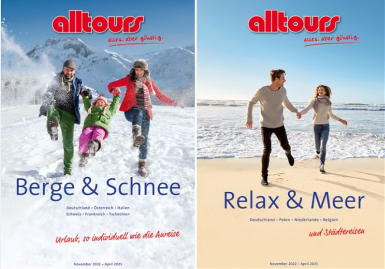 After two difficult Corona years, the demand for winter sports, city trips and relaxed wellness holidays is high. alltours expects double-digit growth rates for the 2022/23 winter season (November 1st to April 30th). Accordingly, alltours has expanded its range of holidays with own arrival in the catalogs "Mountains & Snow" and "Relax & Sea" including city breaks.
Jonas Neubert, product manager individual travel at alltours, recommends Customers don't have to wait too long: "With the expected demand, those customers who book early have the best chance of getting the hotel they want on the desired date. And at attractive early booking conditions of up to 35%." In order to make the decision even easier for customers, alltours has also extended its "Free cancellation up to 14 days before departure" campaign to the 2022/23 winter season. alltours offers this service at no extra charge. This allows you to react flexibly and without risk to possible corona-related changes.
Diverse winter program
The expanded winter program includes a total of over 2,000 hotels (more than 200 of which can be booked with alltours for the first time) with 2 to 5 stars, amusement parks, apartments, chalets and holiday homes as well as wellness and bathing paradises. Attractive services are included in many accommodations. This can be, for example, the ski pass, admission to thermal baths or play areas for children. Interesting for families: In many hotels children stay for free.
Winter sports in the mountains
For ski vacationers, alltours has expanded the hotel portfolio in the popular European winter sports areas. New hotels can be found, for example, in the German low mountain ranges and the Alpine region, in the Salzburger Land and in Tyrol in Austria, in Wengen and the Bernese Oberland in Switzerland and South Tyrol (Italy).
A highlight and new to alltours is the 4-star Kosis Sports & Lifestyle Hotel in Fügen, Tyrol. The house has its own ski school and offers equipment rental. A shuttle bus to the Spieljoch and Hochfügen ski areas stops right in front of the hotel.
Wellness & Relaxation
Wellness fans can also look forward to a larger range of products. For example, three hotels of the Quellness hotel chain in Bad Griesbach, Bavaria, are new to the program and are characterized by extensive thermal baths and wellness areas (inside and outside) and an extensive culinary offer. The 5-star Maximilian Quellness and Golf Hotel, the Hotel Fürstenhof (4.5*) and the Ludwig Fit.Vital.Aktiv.Hotel (4*) can also be booked with alltours. Located on the Scharmutzelsee in a great natural landscape, the Precise Resort Bad Saarow awaits you with a spacious wellness area.
European cultural cities
There is also more choice for city travelers in winter: due to the newly launched cooperation with NH hotels, around 30 hotels alone are new to the program in Hamburg, Berlin, Dresden, Vienna and Amsterdam, among others. Alltours is also working with the WestCord hotel chain for the first time and offers hotels in Amsterdam, Rotterdam, Delft, Groningen and Leeuwarden. (red)